In order to improve the automatic control level of the whole mine, improve labor productivity, monitor the production equipment, it should take corresponding technical measures to monitor electrical equipment and system parameters such as current, voltage, power, etc., as well as the operating status, forecast and monitor breakdown signals which would be sent to the control room through network.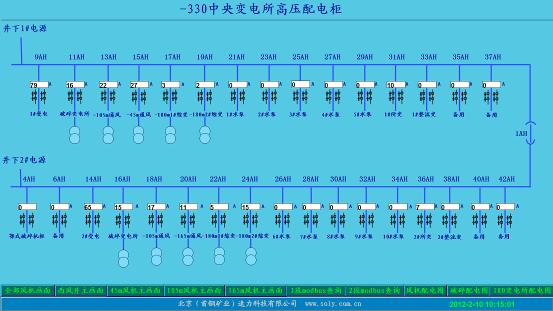 Substation is set up at each level with a collection control station, which collects various data from the comprehensive protection system of the central substation and the multi-functional monitoring device system installed in the substation, and transmits the electrical data in distribution circuits such as current, voltage, power, etc. to the control system.
Communications network
Collect data from comprehensive insurance system and multi-function meter through RS485 or Ethernet
Acquisition control station
A control station is set up in the substation at each level, which can process the collected information, and can remotely stop and transmit power through the control station.
Monitor host
A monitoring host is placed in the surface control room to display real-time data of substations underground, which is used to set parameters, display alarms, remotely control power transmission, etc., and create production electricity reports.
Unattended high and low voltage distribution rooms;
Automatic data collection;
Remote power stop/start, reduce the labor intensity of personnel.